Tiempo de lectura:
2
mins
Carlos Sainz and Lucas Cruz took victory in the sixth stage of the Dakar Rally, which today had 348 timed kilometers. Great news to get to the rest day with confidence and joy. There is still half a rally ahead.
The words of the Madrilenian at the finish line yesterday were harsh, explaining that he was not satisfied with the rally he was experiencing. He compared it to a "gymkhana", citing the "navigation problems" suffered a few hours earlier.
The difference with his main rivals so far, Stéphane Peterhansel and Nasser Al-Attiyah, has been reduced to 40:39 minutes with the French and 34 with respect to the Qatari. It is a long time, even more so considering the experience of both, but here anything can happen.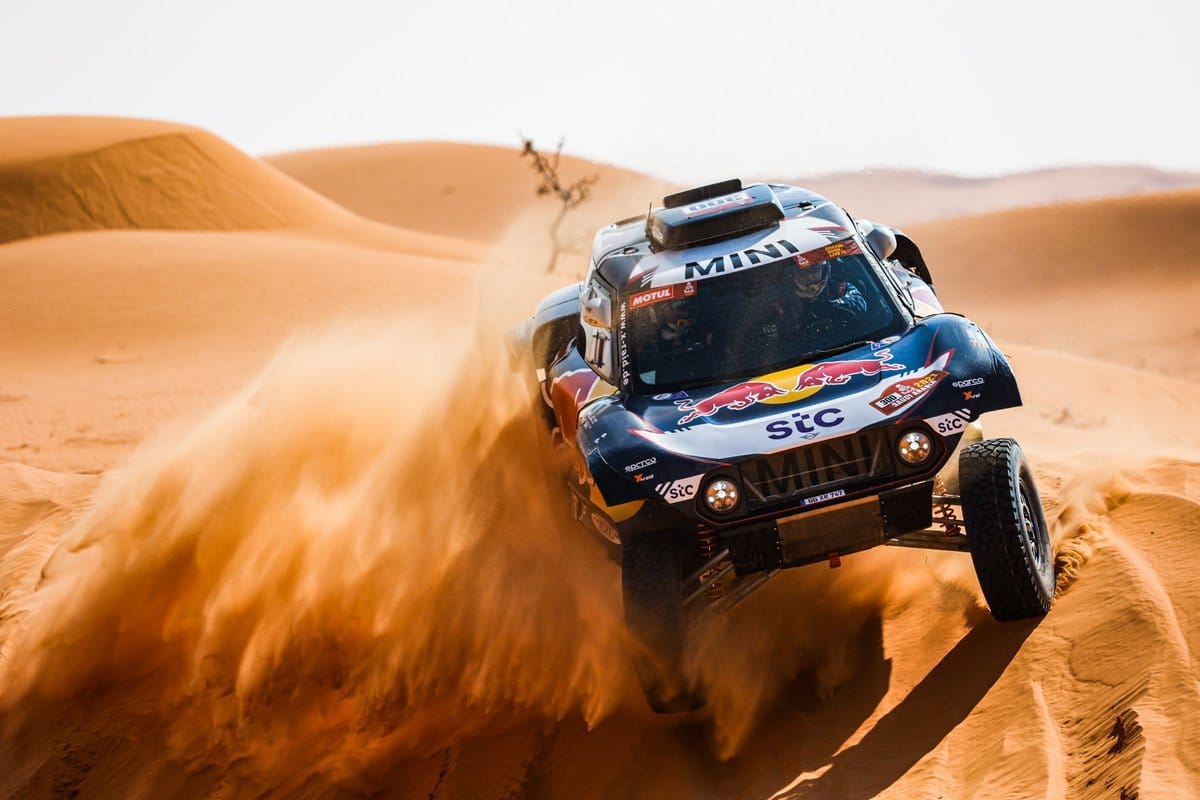 These were the statements of the Madrilenian after his arrival at the finish line: "Today was a stage with many sandy tracks, not too difficult in terms of navigation. There were not many areas where you could lose yourself or get lost". The Mini, with the number 300, has been ported to perfection again.
"Today we basically had no problems. Good pace and yes, happy to be able to do at least one clean stage so far this rally". In addition, he sentenced: "I think it is the best of the six days that we have been in competition". The Madrilenian already has two stage victories in this edition, and is third in the general classification.
GENERAL CLASSIFICATION OF THE DAKAR RALLY AFTER 6 STAGES:
| | | | | | |
| --- | --- | --- | --- | --- | --- |
| 1 |   | 302 | S. Peterhansel | MINI | 22h14:03 |
| 2 |   | 301 | N. Al Attiyah | Toyota | +5:53 |
| 3 |   | 300 | C. Sainz | MINI | +40:39 |
| 4 |   | 307 | J. Przygonski | Toyota | +1h11:36 |
| 5 |   | 311 | N. Roma | BRX T1 | +1h36:55 |
| 6 |   | 310 | B. Baragwanath | Century CR6 | +1h50:32 |
| 7 |   | 317 | V. Vasilyev | MINI | +2h05:47 |
| 8 |   | 310 | K. Al Qassimi | Peugeot | +2h07:21 |
| 9 |   | 304 | G. De Villiers | Toyota | +2h12:12 |
| 10 |   | 312 | M. Prokop | Ford | +2h29:07 |