Tiempo de lectura:
2
mins
375 timed kilometers (Sakaka-Neom) awaited the participants in the eighth stage of the Dakar Rally 2021. Nasser Al-Attiyah has added another victory today with his Toyota Hilux, adjusting the difference in the general classification with Stéphane Peterhansel , leader with the Mini.
The Qatari has achieved his 40th stage victory, fifth this year, without errors, to be four minutes and fifty seconds behind the French rider. Carlos Sainz and Lucas Cruz finished second today. They continue third, 38 minutes behind his teammate. Every shortened minute is a triumph given the regularity of the first two.
Al Qassimi and Despres, both with Peugeot, have managed to materialize their good rhythm with a fourth and fifth place at the end of the stage. Nani Roma, meanwhile, has lost more than 34 minutes aboard the BRX T1. even so, thanks to his regularity from the beginning, he maintains fifth place overall.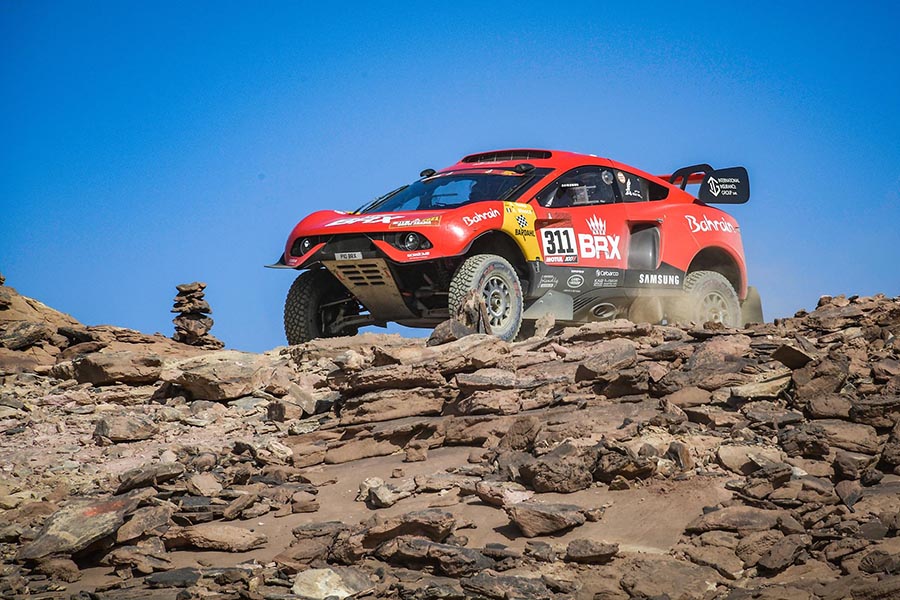 Sébastien Loeb, teammate of the Catalan competitor, has had much worse luck. The Frenchman has suffered a new mishap, this time in the form of a double puncture. The inability to get two spare wheels is leading them on an odyssey in the form of wasted hours.
Stage 8 (Cars):
| | | | | | |
| --- | --- | --- | --- | --- | --- |
| 1 |   | 301 | N. Al Attiyah | Toyota | 2h56:56 |
| 2 |   | 300 | C. Sainz | MINI | +00:52 |
| 3 |   | 302 | S. Peterhansel | MINI | +3:03 |
| 4 |   | 310 | K. Al Qassimi | Peugeot | +12:44 |
| 5 |   | 314 | C. Despres | Century CR6 | +12:49 |
| 6 |   | 307 | J. Przygonski | Toyota | +18:23 |
| 7 |   | 330 | S. Variawa | Toyota | +18:51 |
| 8 |   | 317 | V. Vasilyev | MINI | +19:05 |
| 9 |   | 312 | M. Prokop | Ford | +21:37 |
| 10 |   | 326 | C. Lavieille | Optimus MD | +22:06 |
General:
| | | | | | |
| --- | --- | --- | --- | --- | --- |
| 1 |   | 302 | S. Peterhansel | MINI | 29h36:49 |
| 2 |   | 301 | N. Al Attiyah | Toyota | +4:50 |
| 3 |   | 300 | C. Sainz | MINI | +38:55 |
| 4 |   | 307 | J. Przygonski | Toyota | +1h38:08 |
| 5 |   | 311 | N. Roma | BRX T1 | +2h30:29 |
| 6 |   | 317 | V. Vasilyev | MINI | +2h42:00 |
| 7 |   | 310 | K. Al Qassimi | Peugeot | +2h45:33 |
| 8 |   | 312 | M. Prokop | Ford | +3h18:24 |
| 9 |   | 326 | C. Lavieille | Optimus MD | +3h41:57 |
| 10 |   | 314 | C. Despres | Peugeot | +4h09:03 |